Cambridge is a thriving and cosmopolitan city that, with its unique history, gothic architectural heritage, gorgeous surroundings, pubs, beautiful high streets and student life attracts millions of visitors every year, ranking as one of the UK's most visited cities.
Cambridge is the ultimate student city, a melting pot and bustling city for many students that enjoy its beautiful and well-maintained open spaces, film and beer festivals and pubs.
There is always plenty to do in Cambridge, whether is a visit to its outdoor market, a refreshing beer and fish and chips in one of its pubs, a stroll through Granchester Meadows or punting on the River Cam.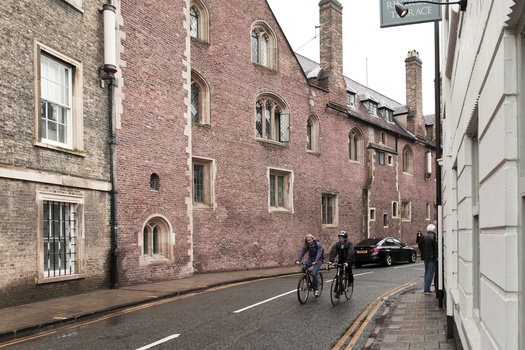 Nightlife
Cambridge student-driven nightlife is vibrant, with plenty of events happening most nights of the week, and it´s one of the few places where you can have a beer, eat and dance in a 500 years hall.
There is a variety of nightclubs and bars offering something for every taste, from traditional pubs in the heart of the city and the riverside to the clubs where you can dance funk or hip hop until the small hours.
Cambridge's pubs have been part of the city for over 100 years, and it is alleged that it was on a Bene´s Street pub where Francis Crick announced that he and James Watson had discovered the structure of DNA.
Everything is very close, sometimes literally across the road, you can replace the taxi ride for a bike ride, besides, you can enjoy exclusive student parties including student discounts.


Eating out
There is a buzzing food and drink scene, and as expected for such a cosmopolitan city there is a huge variety of places to eat and drink that suit all tastes and budgets.
Check out a whole world of flavors on Mill Road, with places offering a mix Mexican, Turkish, American, Japanese, Indian and Chinese food. You will also find Gastro pubs and trendy cafés offering up healthy options, or even tuck into delicious street food at the Food Park.


Shop and markets
If you love shopping then you will also love Cambridge and its boutiques, independent shops and four shopping centers; The Grafton, Grand Arcade, Lion Yard and Christ's Lane.
The shopping centres offer something for everyone, including some of the UK´s favourite department store.
The Grafton Centre and the Lion Yard are very close to the City Centre and the Anglia Ruskin University campus.
The city's narrow streets have an even greater range, including independent shops, second hand stores and covered markets. If you are a vintage style person, you will definitely need to see the vintage clothes sales near the Corn Exchange, with customised denim skirts, homemade t-shirt and vintage bags. Burleigh Street is bargain central with a huge Oxfam and three other charity shops, and the adjacent Fitzroy Street has everything from computer games to a Hawkins Bazaar.


Activities
Cambridge offers a full calendar of events, festivals and attractions, some of the most renowned ones are:
The E-Luminate Festival is a celebration of light, with the city bathed in light and color and some of its most iconic buildings being transformed by an array of light installations, created by some of Europe's leading artists.
The Cambridge Folk Festival is the most famous event in the city. It is an annual music festival that attracts thousands of folk fans every year.
Cambridge Summer Big Weekend and Mid-Summer Fair bring three days and nights of free music and entertainment.
Strawberry Fair a free one-day local festival of live music, film, arts and crafts the heart of Cambridge.