ANGLIA RUSKIN CAMBRIDGE CAMPUS
Located in Cambridge City center the Anglia Ruskin University Campus has a wide range of modern teaching, research and sport facilities, amongst others, that ensure all the student needs are met and that their experience at the University and the City of Cambridge is memorable.

Sports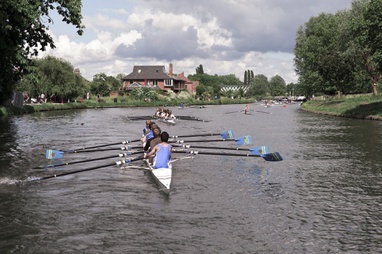 Anglia Ruskin is an ambitious sports university and its Student Union has around 60 sport clubs, including rugby, hockey and fencing.
Sports facilities include the Howe's Close outdoor sports ground, providing floodlit grass and artificial pitches as well as a new pavilion, dressing rooms, warm-up and training areas. There is an outdoor swimming pool at Jesus Green and Parkside Pools just next to Ruskin International College.
There is a gym in the Helmore building opened seven days a week equipped with the latest machines. .
Research
There is a new Science Centre opened in January 2018 offering students and researchers in psychology, animal biology, and biomedical science and forensics the most up-to-date and best laboratory facilities in the UK, including a Neuroscience Lab, Molecular Biology Lab and a Crime Investigation Suite. The Center also offers a 300-seat lecture theatre adapted for science and a 200-seat laboratory.

Accommodation
The Residential Service Team is always ready to help students finding accommodation in one of the university's own accommodation facilities.
Anglia Ruskin University has its own range of accommodation facilities consisting in halls or shared houses located within walking distance from the Cambridge Campus.

The Tenancy Support Team helps and gives advice to students who are looking for private rented accommodation.
Whether it is in the University's own accommodation facilities or in private rented accommodation, the students always get support in finding a friendly, comfortable and safe home.